We innovate to make products of superior quality. With our technical expertise, we are developing  high-performance products. Our products solutions are used for a variety of applications.
MITOFLEKS
A fast-drying marking spray paint
FIELDS OF APPLICATION
Marking trees to cut down, wood and wood pulp marking
Numbering and writing on various surfaces
Marking of  telephone, electrical and water-supply installation
For various marking in construction
Painting of marking road wooden poles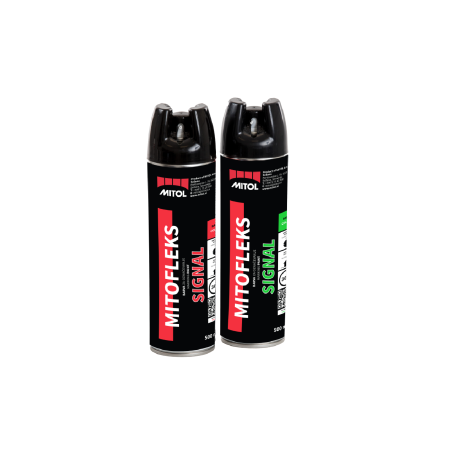 CHARACTERISTICS AND ADVANTAGES
Visible marks in all weather conditions
excellent adherence on various surfaces
fast-drying marks
durability more than 2 years
spraying in all positions of the dose
protected spray nozzle from mechanical damage
CHARACTERISTICS AND ADVANTAGES
For wet surfaces
Water resistant
2 min
---
Packing
EAN Code
500 mL signal red

500 mL signal green

383 8958 990190

383 8958 797690
HAVE A QUESTION?
We are here for you.
Contact our specialists for the quickest and best help.
SEND US A MESSAGE