Our adhesives assure you the strength and longevity of the bonds, while they provide the optimal adhesion in an easy-to-use form, ensuring users with the best efficiency in the gluing process.
MITOPUR A+B
A two-component polyurethane adhesive
FIELDS OF APPLICATION
For surface gluing of metals, wood, plastics, ceramics, insulation materials
For filling of unlevelled surfaces
Allows gluing of large surfaces
Suitable for gluing in boatbuilding, manufacturing of  doors and insulation sandwich panels
For outdoor and indoor use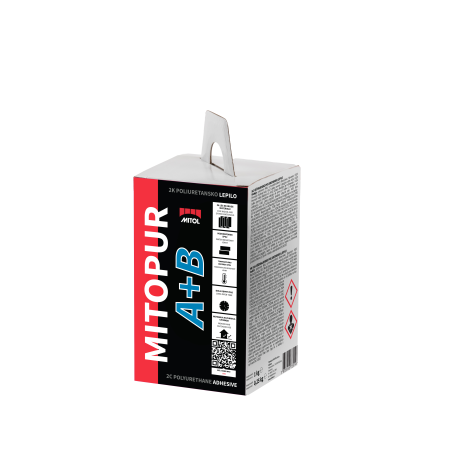 CHARACTERISTICS AND ADVANTAGES
Solvents& odour free adhesive
Water resistant according EN 204 D4
Temperature resistant from -40°C to +80°C
Strong and resistant joint
Long pot life
Harden without spreading limitation
CHARACTERISTICS AND ADVANTAGES
200 kg/cm2
-40°C to + 80°C
For outdoor and indoor use
Water resistant
---
| | |
| --- | --- |
| Packing | EAN Code |
|  1 kg + 0,25kg | 383 8958 735197 |
HAVE A QUESTION?
We are here for you.
Contact our specialists for the quickest and best help.
SEND US A MESSAGE