Our adhesives assure you the strength and longevity of the bonds, while they provide the optimal adhesion in an easy-to-use form, ensuring users with the best efficiency in the gluing process.
TERMOKOL STICK 16
Universal hot melt sticks
FIELDS OF APPLICATION
For fast assembling gluing of wood, paper, cardborad, stone, metals, plastics, glass, ceramics, leather, cork, rubber, textile
For fixing, repairing and decorating of various materials
Suitable for hot melt applicator, diameter 12 mm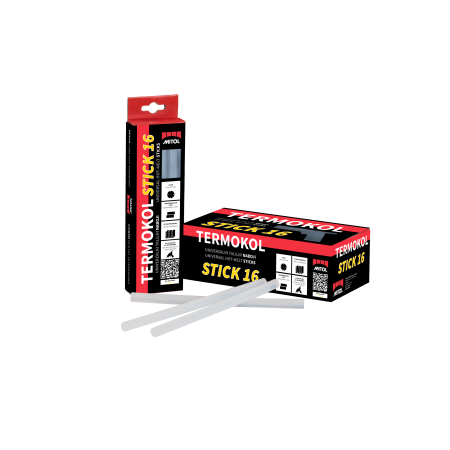 CHARACTERISTICS AND ADVANTAGES
Universal adhesive
fast setting in less than 2 minutes
100 % transparent
CHARACTERISTICS AND ADVANTAGES
100% transparent
2 min
12mm applicator
---
Packing
EAN Code
1 kg

200 g

383 8958 722456

383 8958 722593
HAVE A QUESTION?
We are here for you.
Contact our specialists for the quickest and best help.
SEND US A MESSAGE