Our adhesives assure you the strength and longevity of the bonds, while they provide the optimal adhesion in an easy-to-use form, ensuring users with the best efficiency in the gluing process.
MEKOL 1001
A dispersion adhesive
FIELDS OF APPLICATION
for flat lamination of high pressure laminates, polystyrene on particle board and other porous materials
 assembling of  particleboards and fiber boards
 gluing of low density wood
 doweling
veneering
for indoor use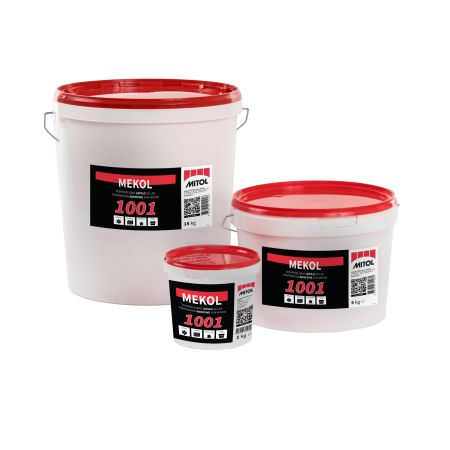 CHARACTERISTICS AND ADVANTAGES
User& environmentally-friendly
Basic type of adhesive
Easily clean with water
CHARACTERISTICS AND ADVANTAGES
Solvent free
---
Packing
EAN Code

15 kg

5 kg

1 kg

383 8958 110246

383 8958 711061

383 8958 711054
HAVE A QUESTION?
We are here for you.
Contact our specialists for the quickest and best help.
SEND US A MESSAGE