Our products form a particularly strong and clean bond and are suitable for different sort of wood. Adhesives are characterized by high resistance and long-lasting joints, and comply with 'green' standards.
MEKOL D3
A water resistant dispersion adhesive
FIELDS OF APPLICATION
For flat lamination, solid wood processing and assembly gluing
Suitable for all kinds of wood
For manufacturing of interior furniture for humid spaces
Can be applied in cold and hot presses
For indoor use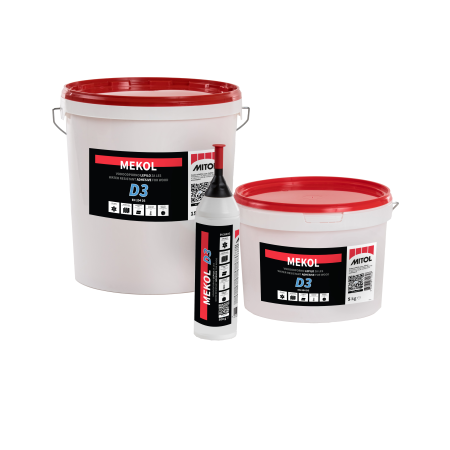 CHARACTERISTICS AND ADVANTAGES
User & environmentally-friendly product
Water resistant joint according to EN 204 D3
temperature resistant joint according to WATT 91
high bond strength
short pressing time
CHARACTERISTICS AND ADVANTAGES
Water resistant
Solvent free
With nozzle for precise application
---
Packing
EAN Code
15 kg

5 kg

500 g

383 8958 711641

383 8958 711658

383 8958 711696
HAVE A QUESTION?
We are here for you.
Contact our specialists for the quickest and best help.
SEND US A MESSAGE