Our adhesives for various floor coveringss provide you with the excellent quality and strong bonds that perform good in all applications.
MEKOL 1570
A universal dispersion adhesive
FIELDS OF APPLICATION
For bonding LVT – Luxury vinyl tiles

For homogeneous and heterogeneous PVC in sheet and tile

Suitable for laying natural and plastic cork

Also for textile carpets with PVC, PU foam, latex or textile backings

On levelled cement surfaces and on wooden floors

Suitable also for gluing on heated floors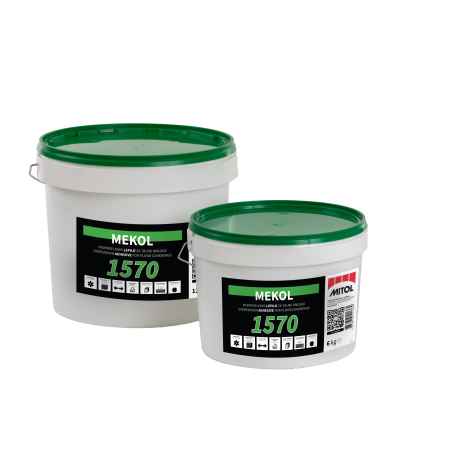 CHARACTERISTICS AND ADVANTAGES
Odour & solvents free
Easy trowel spreading
High initial grip
Long open time - 45 minutes
High final strength & bond elasticity
Packing
EAN Code
Yield
Application
12kg

6kg

383 8958 511333

383 8958 511364

0,25 – 0,35 kg/m2
notched trowel A1, A2
HAVE A QUESTION?
We are here for you.
Contact our specialists for the quickest and best help.
SEND US A MESSAGE