A dispersion solvent free adhesive for gluing PVC and textile coverings on porous surfaces.
MEKOL 1560
A dispersion adhesive
FIELDS OF APPLICATION
For homogeneous and heterogeneous PVC in sheet and tile

Also for textile carpets with PVC, PU foam, latex or textile backings

On levelled cement surfaces and on wooden floors

Suitable also for gluing on heated floors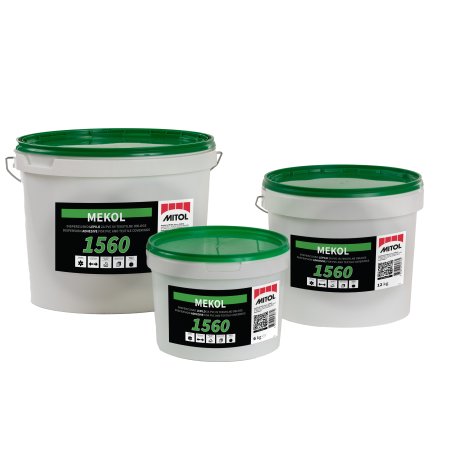 CHARACTERISTICS AND ADVANTAGES
Odour & solvents free
Easy trowel & roller spreading
High initial grip
High bond elasticity
Packing
EAN Code
Yield
Application
20kg

12kg

6kg

383 8958 511432

383 8958 532765

383 8958 532772

0,3 – 0,4 kg/m2

0,25 -0,3 kg/m2

notched trowel A1, A2

roller
HAVE A QUESTION?
We are here for you.
Contact our specialists for the quickest and best help.
SEND US A MESSAGE