PARKETOLIT adhesives have been developed according to standards EN 14293:2006 and ISO 17178:2013 for gluing all types of parquet on any kind of subfloor. They are easy to use and provide efficient gluing even in the heaviest conditions.
PARKETOLIT E60
One component STP (silane terminated polyurethane) adhesive
FIELDS OF APPLICATION
For all types of parquet
Also for solid boards up to 210 mm wide
Very suitable for laying prefinished parquet
Recommended for sports grounds
On any kind of subfloor
Suitable also for heated floors
Without using primer also for screeds with increased moisture content up to 4CM%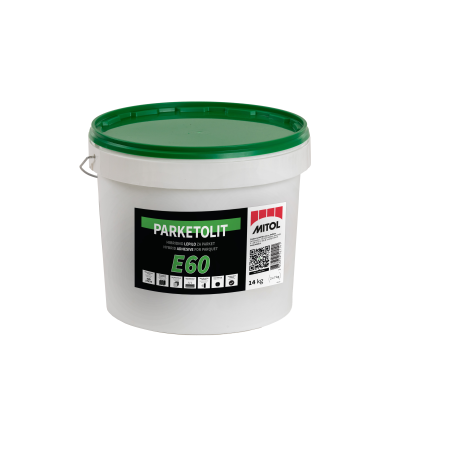 CHARACTERISTICS AND ADVANTAGES
Odour, water & solvent free
According to EN 14293:2006 for soft, ISO 17178:2013 for hard- elastic adhesives
Ready-to-use
Easy to use & clean
Long open time
Allows natural adaptation of wooden floors to ambient conditions
Improves sound isolation
Packed into aluminium foil bags
Packing
EAN Code
Yield
Application
2x7kg Al sack

383 8958 521141
Dry screed: 0,6 – 1,1 kg/m2

Moisture screed: till 2,5 kg/m2

notched trowel B3, B11
HAVE A QUESTION?
We are here for you.
Contact our specialists for the quickest and best help.
SEND US A MESSAGE